Da Vinci accused Marshall Ronald suffers legal aid setback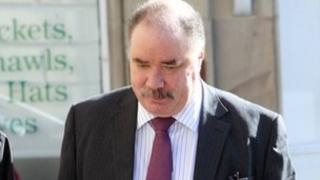 A man cleared of conspiring to extort £4.25m for the return of a Leonardo da Vinci painting has suffered a setback in his bid to sue police and the Duke of Buccleuch.
The case against Marshall Ronald was found not proven in April 2010.
He was one of five men cleared of plotting to extort money for the return of the Madonna of the Yarnwinder, stolen from Drumlanrig Castle in 2003.
His bid for legal aid to fund his court action has been turned down.
However, judge Lord Doherty at the Court of Session was told that Mr Ronald was not ready to give up his claim.
Maria McGuire QC, for the police, confirmed that a report on a complaint Mr Ronald made against the Dumfries and Galloway force - which became part of the Police Scotland on 1 April - was "imminent."
Mr Ronald, 56, of Skelmersdale in Lancashire, hopes that report will help his case, and will help him overturn the decision to refuse him legal aid.
The sides are due back in court next month.
Valuable artwork
If Mr Ronald goes ahead he will face a demand to put up cash to pay the lawyers for the duke and the police if his action fails.
Mr Ronald is suing the Duke of Buccleuch and the chief constable of Dumfries and Galloway for £4.25m.
The valuable artwork was stolen from the duke's castle north of Dumfries in August 2003.
A covert operation eventually led to its recovery following a meeting at the offices of a law firm in Glasgow in October 2007.
Mr Ronald and others who had attended were detained. They were all later acquitted of demanding money for the safe return of the painting.
The former solicitor has now resorted to the civil courts to pursue a compensation claim.
He says he is owed £4.25m for his part in safely returning the painting to its rightful owner and also blames Dumfries and Galloway Constabulary for going back on a deal to pay him a reward.
The duke and the police are both defending the action.