The biggest cases of Scotland's smallest police force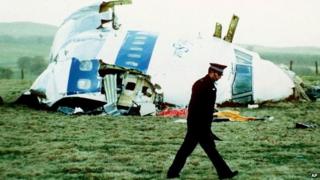 Sixty-five years used to be the default retirement age.
And, while it may not be exactly voluntary, that was the point in time when Dumfries and Galloway Constabulary ceased to exist.
Scotland's smallest force - by officer numbers - has now merged with the country's seven others.
It brings to an end a chapter in the story of policing in south west Scotland - a story which has been recounted in a commemorative book to mark the force's most memorable moments.
Dumfries and Galloway Constabulary was formed on 16 February 1948 out of another merger - this time of the constabularies of Dumfriesshire, Wigtownshire and the Stewartry of Kirkcudbright.
That makes it the oldest of the eight forces being amalgamated on 1 April this year.
In its lifetime, it has seen its officers take the lead in numerous major cases - but one towers above them all.
Some 270 people - from 21 different countries - died when Pan Am Flight 103 was blown up over Lockerbie just before Christmas in 1988.
It resulted in the largest criminal investigation ever undertaken in the UK, which was led by Dumfries and Galloway's Chief Constable of the time, John Boyd.
With the assistance of other forces, Libyan Abdelbaset al-Megrahi was eventually convicted of the bombing at a special court in the Netherlands.
He died last year after being released from jail on compassionate grounds, but the investigation into the atrocity remains "live".
Officers from Dumfries and Galloway visited Libya earlier this year to continue their inquiries.
Another investigation which captured headlines worldwide was the theft of a Leonardo da Vinci painting, the Madonna of the Yarnwinder, from the Duke of Buccleuch's Drumlanrig Castle in 2003.
In the audacious art heist, raiders made off with the multi-million pound painting late one August morning.
Nobody has ever been charged with the theft, but the valuable piece was recovered in 2007.
Five men were accused of conspiring to extort £4.25m ($6.5m) for its safe return - but they were all cleared in court.
Going back further into the force's history, the Little Ross lighthouse murder provided another of its most famous cases.
In August 1960, two relief lighthouse keepers were on duty on the little island off the coast of Kirkcudbright.
The secretary of the local RNLI arrived on the island with his son and discovered the body of one of the keepers, Hugh Clark, in the lighthouse.
A nationwide hunt eventually traced the other man on duty, Robert Dickson, in Yorkshire.
He was tried and found guilty of murder in Dumfries, and was sentenced to hang.
That was later commuted to life imprisonment, although Dickson subsequently took his own life while in jail.
Another notable murder was the case of Archibald Hall, dubbed "The Monster Butler".
He began working for Peggy Hudson as a butler at Kirtleton House in Dumfriesshire in 1975.
Hall had previously been in prison and two years later a fellow inmate, David Wright, got a job as gamekeeper on the same estate.
A row between the two resulted in the butler shooting and killing the other man and burying him in the estate grounds.
Hall quit his job and moved to London, working for Walter and Dorothy Scott-Elliot.
He hatched a plan with an accomplice, Michael Kitto, to rob his employers, but was overheard by Mrs Scott-Elliot.
They suffocated the woman with a pillow and her husband was drugged, taken to Scotland, beaten and buried in woods in the Highlands.
During that journey they were accompanied by the housekeeper Mary Coggle, who started to wear Mrs Scott-Elliot's expensive clothes and jewellery.
Fearing this might draw attention, Hall and Kitto killed her too, and left her body in a stream near Middlebie in Dumfries and Galloway.
Her body was discovered on Christmas Day 1977 by a shepherd.
An investigation was launched but, in the meantime, the pair also killed Hall's half-brother, Donald, in Cumbria.
They were eventually caught in East Lothian and Hall was convicted of four of the murders and sentenced to life imprisonment. Kitto was also jailed for life.
Seven years later there emerged a case which still remains unsolved.
Lockerbie woman Marion Hodge was last seen on the Whitesands in Dumfries in 1984.
Repeated appeals failed to trace her and she was pronounced officially dead at the Court of Session in 1992.
A fresh appeal was launched in 2006, when her disappearance was the last unsolved case on Dumfries and Galloway Constabulary's books.
However, it failed to find an answer to what happened to her more than 20 years before.
Flipping through the force's history, the breadth and scale of the incidents it has had to deal with is apparent.
A bank siege in Stranraer, a car plunging into the River Dee, a coach crash at Beattock in which 10 people died and an officer - Sgt William Gibson - being shot dead while on duty in Bank Street in Dumfries are among the stories which jump off the page.
Thankfully, such dramatic and sometimes tragic events are few and far between.
The region's last chief constable, Pat Shearer, has highlighted the low crime levels and high detection rates, as well as the "dedication and devotion of the policing team".
Everyone in Dumfries and Galloway will hope that this continues under the new structure.