Innerleithen's Caerlee Mills site faces closure fears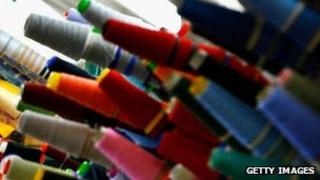 One of Scotland's oldest textile mills based in the Borders is facing closure with the potential loss of 36 jobs.
Caerlee Mills - which operates from a factory at Innerleithen - has appointed KPMG provisional liquidators.
At its peak the mill, which dates back to 1788, employed 400 workers.
The site was saved from closure three years ago by a management takeover after JJ & HB Cashmere went into administration with the loss of 132 jobs.
The company is said to have been in a "difficult situation for a number of months" due to falling orders as a result of a decision by its main customer to significantly reduce the volume of manufacturing at Innerleithen.
Unite union representative Tony Trench described the situation as "a sad sight to see", highlighting the experience and skills of the remaining workforce.
Scottish Borders Council's economic development spokesman Stuart Bell, who is also the local councillor, said: "I am deeply disappointed by the news that Caerlee Mills have called in the receiver.
"This puts at risk the jobs of 36 staff, a team led by Tom Harkness who have struggled on trying to keep this business alive.
"They struggled through very difficult circumstances and in the teeth of an international recession."
He said there might be a "glimmer of hope" for the industry as other textile businesses in the region had seen a recent upturn in business.
However, he said the latest news remained a "bitter blow" for Innerleithen.
"I understand this was the longest continually operating mill in Scotland even though it had been reduced to a fraction of its former size," he said.
Mr Bell said that the council and their partners Skills Development Scotland, Scottish Enterprise and Citizens Advice had already taken steps to ensure that all staff received advice and guidance.
KPMG said it intended to continue to trade the business while looking for a buyer.
Head of Restructuring Blair Nimmo said: "Caerlee Mills has a rich history dating back more than 200 years and remains an attractive acquisition for the right buyer.
"The company has been facing difficulties following trading losses and increasing cash flow pressures, mainly resulting from a reduction in orders.
"There remains an excellent opportunity to acquire a well known business which manufactures a top quality product and we are hopeful a buyer can be found."