Star of Caledonia: Scotland-England landmark plan approved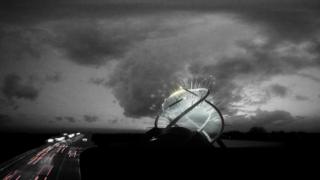 Councillors have approved plans for the Star of Caledonia public artwork, marking the Scotland-England border at Gretna.
No objections had been lodged to the scheme, designed by Cecil Balmond and Charles Jencks, costing more than £4m.
A Dumfries and Galloway Council report said the aim was to turn crossing the border into a "memorable experience" and raise the area's profile.
Council officers had recommended approval of the scheme with conditions.
Mr Balmond's design was selected as the preferred option for the site in July 2011.
The Gretna Landmark Trust is currently in talks with a range of organisations and individuals to raise the funds.
Last year, Creative Scotland awarded the project development funding in order to work up a bid for £1m support from the arts body.
The proposed design stands approximately 130ft (40m) high, which is twice as tall as the Angel of the North near Gateshead.
It will be lit by LEDs at the tips of the structure, but the council has asked for more detail on how much light they will emit as a condition of approval.
The project's creative director, Mr Jencks, said: "Crossing the border to Scotland, across the River Sark, is now a passage obscured under a bridge by cars travelling at speed.
"Instead of marking this with motorway signs, we are using a landform and sculpture that pulls together the adjacent site, the distant hills and the Solway.
"Nestled into the curving mound and springing from it is Cecil Balmond's whirling creation.
"In one sense, it is a scintillating piece of calligraphy seen against the sky which will signify various meanings as you approach it."
Gretna Landmark Trust chairman Alasdair Houston said it was a "remarkable" opportunity for a country to "herald its border".
"The star is a timeless work, which for 365 days a year will be a bold and confident statement of Scotland's innovation and energy," he said.