Scottish flu victim airlifted to Leicester hospital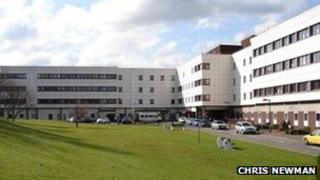 A Scottish woman is in intensive care at a specialist hospital in Leicester after contracting a suspected form of swine flu.
Jennifer Scott was transferred by helicopter from Dumfries and Galloway Royal Infirmary after she was diagnosed with a serious "flu-type illness".
Her condition at Glenfield Hospital in Leicester was described as critical but stable.
Ms Scott is reported to be 27 years old and from Sanquhar in Dumfriesshire.
A spokesman for NHS Dumfries and Galloway said: "We have had a confirmed case of a significant flu-type illness.
"That case has been transferred and there are no other confirmed cases."
A spokeswoman for University Hospitals of Leicester NHS Trust said the patient had been flown to Glenfield as it was one of a limited number of hospitals in the UK that had specialist equipment required for her case.
"The patient is currently in a critical but stable condition," she added.
According to the Scottish Sun, Ms Scott collapsed during her mother's funeral.
She was also reported to be pregnant and to have undergone an emergency caesarean section before being airlifted.