Borders railway: Thousands apply for train driver jobs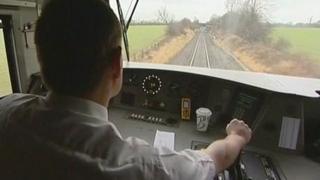 Thousands of people have applied for 18 jobs as train drivers on the new Borders to Edinburgh rail route.
Scotrail advertised the trainee positions last year and had received 2,229 job requests by the mid-January closing date.
That means almost 125 people applied for each post.
A Scotrail spokeswoman said the selection process for the drivers was under way and the trainees would start in late spring.
The multi-million pound 35-mile track project is due to be completed by 2015.
Christine Grahame, MSP for Midlothian South, Tweeddale and Lauderdale, and long-term supporter of the scheme, said the high interest in the Tweedbank-based jobs was a good sign.
She said: "They are very attractive jobs - people want to be involved in a new project with a national profile such as this.
"The positions carry a bit of kudos - it will be great to say you drive a train for a living.
"I also think it is good for the area, as successful applicants will likely be from around the country and therefore will come to the Borders to live."
The posts have a starting salary of £22,281, rising to £39,204 after training and the probationary period is completed.