Dumfries archive centre plans drawn up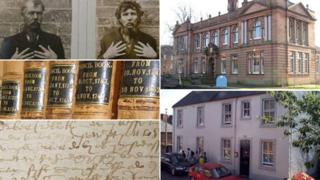 Ambitious plans are being drawn up to construct a new archive and local studies centre in Dumfries.
At present, a huge range of documents are stored in three different locations - none of them up to modern standards.
A number of sites are being considered by Dumfries and Galloway Council for the new building, mainly at town centre locations.
Public opinion on the proposals is now being sought via a survey before taking the scheme forward.
It could pave the way for a bid for up to £5m towards the project to be submitted to the Heritage Lottery Fund later this year.
Online survey
The council holds hundreds of thousands of documents dating back centuries at three sites in Dumfries.
They are the Archive Centre in Burns Street, the Ewart Library and the former Farries building on the outskirts of the town.
However, there are concerns about the conditions in which the documents are kept which are cramped and do not meet modern standards for long-term preservation and disaster prevention.
A new building is being proposed which would need to be about twice the size of the town's main library.
Public opinion about the plan is being canvassed before it is taken forward.
A survey will be on the council website and in paper form at libraries and other council locations from 8 February until 1 March.
There will also be a chance to ask questions and make suggestions about the project this Friday and Saturday in the former Baker's Oven shop on the High Street in Dumfries.