Anthony Grant A75 fatal crash sentence cut on appeal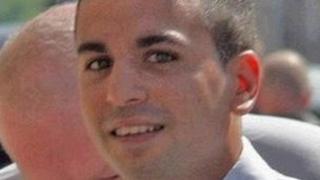 A Newcastle man has had his sentence reduced for causing the death of a friend in a crash on the A75 in Dumfries and Galloway.
Anthony Grant, 22, of Bellister Grove, was originally jailed for eight years.
Lawyers acting on his behalf argued that the prison term for the offence was "excessive".
Appeal judges ruled the sentence for the crash in which John Quinnin, 22, of Cramlington in Northumberland, died, should be seven years and four months.
Grant was jailed at the High Court in Edinburgh in July after he admitted causing Mr Quinnin's death on the A75 near Kirkcowan in June 2011 by driving carelessly and while over the drink drive limit.
At the time Lady Stacey told him that he would have faced a 12-year sentence but for his guilty plea in the case.
After he was sentenced Grant appealed against the length of his jail term at the Court of Criminal Appeal in Edinburgh.
Lord Mackay, sitting with Lord Phillip, ruled that the prison sentence should be reduced.
He said: "We have reached the conclusion that the headline sentence from which the discount for the plea of guilty fell to be taken should not have exceeded 11 years imprisonment."
Lord Mackay said the appeal judges considered the case to involve careless driving falling not far short of dangerousness.
He said: "Clearly there were aggravating factors relating to the appellant's previous convictions for driving offences and his driving that night without licence or insurance."
He added: "However, the mitigating factor of the deceased having been a close friend of the appellant also required to be taken into account."