Killylour water treatment works cat appeal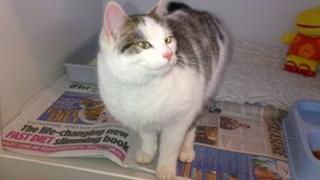 The Scottish SPCA is trying to trace the owner of a cat which hitched a ride in a courier van and then spent a week in hiding at a water works.
The white tabby cat was spotted jumping out of the van at the Killylour works near Dumfries last Thursday.
However, the animal - which has been named Brook - was only finally tracked down on Wednesday.
Animal Rescue Officer Tricia Smith said she was sure the cat had a "loving owner" who would be missing the pet.
Brook is currently in the care of the Scottish SPCA's Ayrshire and South West Scotland Animal Rescue and Rehoming Centre.
"After spending a week out in the cold Brook was clearly happy to be indoors as I found her curled up asleep on a chair in the office when I came to collect her," said Ms Smith.
"Cats are curious creatures and she's not the first feline to hitch a ride and then find themselves lost and in need of our help.
"Unfortunately, Brook was not wearing any identification and she has not been microchipped so we are hoping that her owner will read our appeal and come forward."
She said it would also be helpful if the courier van driver could get in touch.
"We're sure Brook has a loving owner who will be missing her as she's in good condition and has clearly been well cared for up until now," she added.
"It would be great to reunite her with her owner, though if no-one comes forward to claim her we'll find her a good new home."