Patient death rates 'significantly higher' after bank holiday admission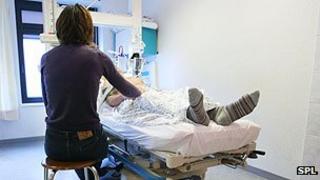 Emergency patients admitted to hospital during a bank holiday are significantly more likely to die than those admitted at other times, according to research.
Death rates are already believed to be higher at weekends and the report authors suggested a "cumulative effect" of lack of services on bank holidays.
Academics looked at figures for 20,072 admissions over three years at Dumfries and Galloway Royal Infirmary.
The findings are published in the Emergency Medicine Journal.
The authors reported that after 30 days the death rate for bank holiday admissions was 11.3%, compared with 8.7% for admissions on other days.
A study published last year in the Journal of the Royal Society of Medicine found that patients were 16% more likely to die if they were admitted on a Sunday than mid-week.
The latest research sought to find out if similar patterns were evident for patients admitted to hospital on public or bank holidays.
Patient profile
It looked at seven and 30-day death rates among patients admitted as emergencies to Dumfries Infirmary, in south west Scotland, between January 2008 and December 2010.
The hospital serves a population of 150,000 people and during the study period, 20,072 people were admitted as emergencies to the medical unit.
Three-quarters (77%) were admitted during the week, with the remainder at weekends.
Patients admitted at weekends were slightly older, less likely to have cancer and more likely to have a respiratory problem, as were admissions on public holidays.
In all, 5.8% of patients died within seven days of admission on a public holiday compared with 3.7% of those admitted on other days of the week, while 11.3% died within 30 days compared with 8.7% of those admitted at other times.
This means that patients admitted as medical emergencies on public holidays were 48% more likely to die within seven days and 27% more likely to do so within 30 days.
There were no differences in senior doctor staffing between normal weekends and weekdays at the hospital - a factor frequently cited to explain the differences in death rates between weekends and weekdays.
But public holidays are usually tagged on to a weekend, providing a three or four-day holiday, resulting in what the authors refer to as a "cumulative effect".
Severe illnesses
They wrote: "If we assume that patients with severe illnesses are no more likely to be admitted on any one day of the week than any other, then it becomes difficult to escape the view that a cumulative effect of lack of services and/or lack of doctors on public holidays must have a part to play in the higher public holiday mortality demonstrated in this study."
Dr Sian Finlay works at the hospital and was involved in the research.
She said more investigation was needed, but it was possible bank holiday patients were in a worse condition when admitted.
She told BBC Radio Scotland's Good Morning Scotland programme: "It is possible that some patients over the holiday periods are holding on for less severe illnesses and maybe the patients that are being admitted are therefore the iller patients with a higher risk of dying, so case mix is one possibility, but when you get evidence like this you have to look harder.
"It doesn't appear to be staffing in the acute medical unit, however there is reduced staffing in the other medical wards - the downstream wards which patents are moved to.
"There's also a reduction in diagnostic imaging, endoscopy, for the non-emergency cases, so there's reduced service across the board in hospital at public holidays and indeed at weekends."
A statement from NHS Dumfries and Galloway said it reviewed appropriate clinical staffing levels to "ensure safe service provision".
"NHS Dumfries and Galloway is also actively engaged in the Scottish Patient Safety Programme which has delivered significant improvements in outcomes for hospital inpatients," it added.
"In particular, NHS Dumfries and Galloway has achieved a 15.8% reduction in standardised hospital mortality since 2008."