Old Tweed Bridge closed by bad weather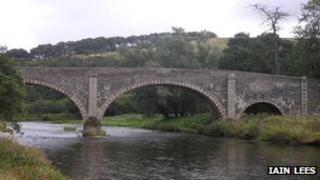 A bridge used by pedestrians over the River Tweed near Selkirk has been closed on safety grounds after a spell of bad weather.
The Old Tweed Bridge had only recently reopened to walkers and cyclists after new fencing was put in place.
However, after a spell of snow and icy conditions, new defects have been found in the stonework.
Temporary props will have to be installed before the route can be reopened again.
Main refurbishment of the 19th Century bridge, which used to carry the A7, is scheduled for later this year.
Transport Scotland, which is responsible for the listed structure, said it hoped the temporary repairs could be carried out as quickly as possible.