Loch Ken biodiversity 'destroyed' by invasive crayfish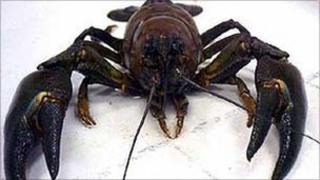 A Scots loch has seen its biodiversity virtually wiped out by an "invasive alien species", according to an MSP.
Alex Fergusson said North American signal crayfish had "almost completely destroyed" the biodiversity of Loch Ken in Dumfries and Galloway.
Holyrood is updating its strategy on the subject with a a global target to halt biodiversity loss by 2020.
Mr Fergusson said the situation on the loch showed there was a "lot of ground to make up" on the problem.
"I look out on to Loch Ken in Galloway from my home, a loch within which the biodiversity has been almost completely destroyed by the frighteningly rapid and completely unchecked and uncontrolled expansion of American signal crayfish," said the Conservative MSP.
Ecosystems under threat
"An ecosystem has been virtually wiped out, ironically, within the Galloway and South Ayrshire biosphere now recognised by Unesco as 'a good way to demonstrate good nature conservation'.
"This is a slightly odd way to demonstrate it."
He said it mirrored the situation worldwide where ecosystems were under threat.
Labour environment spokeswoman Claire Baker said: "The Scottish Wildlife Trust highlighted the importance of marine biodiversity, an area which is suffering decline in habitat and species.
"We all recognise the importance of the Marine Scotland Act but also the frustration about the lack of a network of marine protected areas and the delayed publication of a marine plan."
'Targets missed'
Rural affairs committee convener Rob Gibson said it was examining responses to the Scottish government's consultation on the 2020 Challenge for Scotland's Biodiversity.
"To achieve biodiversity targets, we need a quantified, detailed biodiversity strategy, not just the work of existing non-governmental organisations but led by government, especially in this Year of Natural Scotland," he said.
Environment Minister Paul Wheelhouse added: "The international biodiversity targets for 2010 were missed across the board.
"In Scotland, there was a detailed assessment made by Scottish Natural Heritage and we can take pride that they have made good progress towards the UN target, significantly slowing biodiversity loss."