Dumfries and Galloway Council clash over teacher cuts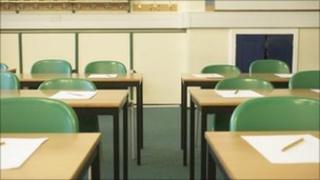 Concerns have been raised that a planned cut in teacher numbers could have an impact on children in deprived parts of Dumfries and Galloway.
Opposition Labour councillors claim a budget saving measure tabled by the Conservative-SNP administration would lessen support for pupils.
Spokesman Jeff Leaver said the cut was equivalent to seven full-time posts.
Conservative Gail Macgregor, who chairs the education committee, said the move would not harm pupils needing support.
The Labour group said it had developed a budget which would allow schools to keep the staff in place.
"In recognition of the increased resources needed to support teaching in some schools, over the past two school years, 14 schools in areas of greatest deprivation have each had their staffing formula increased by one teacher," said Mr Leaver.
"I and other councillors know from speaking to teachers in these schools that this has had a very beneficial effect enabling head teachers to give greater support to those pupils who need it most.
"Now, after less than two years, the council's administration is going to remove these posts despite the need still being there and in some schools actually increasing."
Ms Macgregor said she did not believe the proposal would be detrimental to pupils.
She said the teachers had been put into schools in the council's "most challenging areas" two years ago as part of its Getting it Right for Every Child review.
She said that review had now ended and they were now looking at early intervention rather than targeting specific schools.
"I think that the approach that we are moving to will actually have a much greater impact on every child across the region," she said.