Scottish Borders high street footfall 'grounds for hope'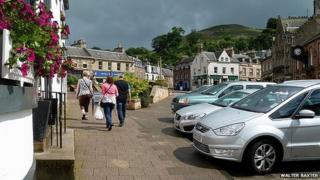 It has not been an easy time for high streets in the Borders of late.
In common with the rest of the country, shopper numbers have been in decline for quite some time.
Scottish Borders Council has been keeping a close eye on the situations across its eight main towns.
Footfall figures have fallen significantly since 2007 but the authority has spotted "grounds for hope" in a small rise recorded last year compared with 2011.
In the previous four years, shopper numbers in Hawick, Peebles, Galashiels, Kelso, Melrose, Jedburgh, Selkirk and Duns had dropped by an average of 17%.
But last year they reversed that trend - if only just - with a rise of a little short of 1%.
It might not sound like much, but the council believes it is something to build on.
Councillor Stuart Bell, executive member for economic development, said: "Whilst there are significant challenges and pressures faced by our town centres from the economic downturn and the rise in the use of internet shopping, this survey does give some grounds for hope.
"The council is very conscious of the vital role that our town centres play in the economic and social life of the Borders and will continue to promote projects aimed at improving their future prospects.
"Projects have included town centre improvements in Melrose and Galashiels, and there are town heritage projects in Kelso and Selkirk being taken forward."
Not everywhere, however, has seen a rise in footfall.
Both Hawick and Peebles saw numbers fall - by 8.7% and 2.2% respectively - compared with the previous year.
The overall figures have been welcomed by Conservative MSP John Lamont.
"After a poor showing in recent years, it is a relief to see that the footfall for some towns in the Borders is on the rise again," he said.
"The economic downturn has had a devastating effect on our local retailers, only made worse by the drop in those who travel into town and spend money locally.
"It is good news therefore that the number of people visiting our towns has risen, albeit very slightly."
However, he said he was concerned about the fall in numbers in Hawick.
The council has already carried out a number of improvement projects and has more planned for the future.
Last year, crime reduction efforts by a town centre partnership in Galashiels were recognised with a special award.
Shopfront grants have also been issued throughout the region as part of another scheme to improve the retail offering across the Borders.
The authority hopes the latest figures could be a sign that those moves are starting to have an effect.
It is a long journey, but at least a first step appears to have been made.
Do you own a business or shop regularly in the Scottish Borders? Is the retail situation on the up and what more could be done to help? Send your thoughts via email to giancarlo.rinaldi@bbc.co.uk in the south of Scotland.