George Clooney clothing commission for Aero Leather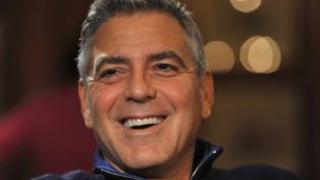 A Borders vintage clothing manufacturer is to provide period jackets for George Clooney in a new film.
Galashiels-based Aero Leather has been asked to kit out the stars of World War II movie The Monuments Men.
It is likely the firm will be producing a similar piece for co-star Daniel Craig although that deal has yet to be finalised.
Company founder Ken Calder said the commission was "perfect" for the kind of clothing it produced.
He said: "It's set in the 1940s, and they want us to recreate the jacket that the main character will be wearing.
"We were approached by their costume department to do it."
Mr Calder said that filmmakers had a habit of altering the original designs of period jackets for fashion's sake, but that on this occasion they had wanted something faithful to the period.
The film tells the story of a group of art experts - called the Monuments Men - chosen by the US government, who risked their lives scouring Europe to retrieve artwork stolen by the Nazis.
Co-written and directed by Clooney, the movie is based on the book The Monuments Men: Allied Heroes, Nazi Thieves, and the Greatest Treasure Hunt in History by Robert M Edsel.
It follows the 11-month period between D-Day and VE Day, during which the group worked behind enemy lines and were often unarmed.
Clooney and Craig head a cast, which includes Matt Damon, Cate Blanchett, Bill Murray, John Goodman, Hugh Bonneville and French actor Jean Dujardin, who won an Oscar for his role in The Artist.