Walkerburn cottage sale squatter Ewan Turner sentenced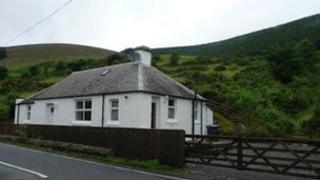 A squatter who spent £8,000 renovating an empty Borders cottage and then tried to sell it has been sentenced to 120 hours of unpaid work in the community.
Ewan Turner, 36, of Galashiels, must complete the work within a year.
Selkirk Sheriff Court heard the owner contacted police after she visited Kirnie Cottage in Walkerburn and found a "For Sale" sign in the garden.
A sheriff said he took the renovations into account but the actions "struck at the heart of the property system".
Turner had previously admitted trying to sell the cottage for £70,000 without the knowledge of the owner.
He moved into the two-bedroom property when he spotted it was vacant.
He then tried to cash in by pretending to be the owner and convincing an estate agent to put it on the market.
The attempt - described in court as "doomed to failure" - happened after the property's previous owner died in 2011 and left the cottage to a beneficiary.
At that point Turner, who was already a squatter in the building, hatched his plan to sell it.