Three men killed in head-on crash on A68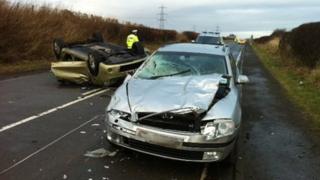 Three men have been killed in a head-on car crash on the A68 in the east of Scotland, police have said.
The two-car incident happened about a mile-and-a-half south of Pathhead in Midlothian, just after 07:30.
One of the cars, a Nissan Note, was carrying five people and ended up on its roof.
Three male backseat passengers in the car, who were all Buddhist monks, died at the scene. Its female driver managed to get herself free.
The male front seat passenger in the vehicle was cut out of the wreckage by fire crews.
The Nissan was heading north when it was involved in a crash with a Skoda Octavia being driven in the opposite direction.
The two survivors from the Nissan were taken to the Edinburgh Royal Infirmary and treated for injuries not believed to be life-threatening, Lothian and Borders Police said.
The Skoda's male driver was also taken to hospital, but did not suffer serious injury.
The A68 was closed near the scene of the crash to allow police to carry out a crash investigation and re-opened later.
Insp Simon Bradshaw, of Lothian and Borders Police, said: "This is a tragic incident, and we are currently in the process of carrying out inquiries in order to establish the full circumstances of the collision.
"At this time, I am appealing to anyone who noticed the gold coloured Nissan Note or the silver Skoda Octavia on the A68 this morning, to get in touch."
On Sunday, a man and a woman died in a head-on crash about 10 miles from the A68 incident.
It happened on the A697, in Carfraemill in the Scottish Borders, at about 14:55.