Chapelcross nuclear plant reaches defuelling milestone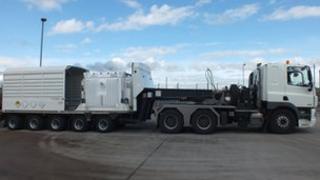 Work on decommissioning the Chapelcross nuclear plant has reached a milestone as the third of its four reactors has been completely defuelled.
The Annan plant ceased power generation in 2004 and its cooling towers were demolished in 2007.
More than 38,000 fuel elements have to be removed from the site and taken for reprocessing at Sellafield in Cumbria.
To-date 34,552 elements have left the plant and it is predicted defuelling will be complete by mid-2013.
Plant manager Richard Murray said: "This is a great achievement and another significant defuelling milestone for the site as we head closer towards safely removing all the fuel from Chapelcross.
"Key to the success of the project has been the continued dedication of the skilled workforce currently focused on the defuelling project."