Stow dead snake finds provoke appeal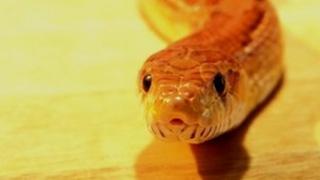 The Scottish SPCA is appealing for information after two dead snakes were found in the same area of the Scottish Borders in the space of three weeks.
A red and orange corn snake was found at a disused railway path in Stow, near to Station Road, on 23 November.
Then, on 14 December, an orange and black corn snake was found dead in the same location.
The Scottish SPCA said the indications were that it was likely they had been dumped in the area.
Animal Rescue Officer Amy Dow said: "Sadly, both snakes were already dead when they were discovered.
"While it is possible these snakes had strayed from home, the fact both were found on this railway path just three weeks apart suggests someone could have dumped them there.
"It's likely they perished in the cold weather as snakes need heat to survive."
The animal welfare charity is keen to trace the owners in order to establish what exactly has happened to the snakes.
It stressed that abandoning an animal was an offence and anyone found guilty of doing so could expect to be banned from keeping animals for a fixed period or life.