Solway Firth cockle fight challenges outlined by police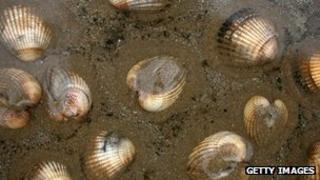 Police have been detailing the ongoing fight against illegal cockling on the Solway Firth.
Ch Insp David McCallum was giving evidence to the Scottish Parliament's rural affairs committee, which is considering new legislation.
He said links with other enforcement agencies and information from the community had helped police the area.
However, he admitted there were safety and equipment issues which made catching any culprits problematic.
"The Solway is an extremely dangerous estuary with very fast moving tides and unpredictable sands," he said.
"To put officers out onto the cockle beds themselves I think would be very difficult around health and safety."
He said that meant reliance on Marine Scotland if they hoped to catch illegal cocklers "in the act".
Galloway and West Dumfries Conservative MSP Alex Fergusson said he recognised that progress was being made in policing the shellfish beds.
However, he said he remained concerned that illegally-harvested Solway cockles were still finding their way into the food chain.
Lib Dem South of Scotland MSP Jim Hume agreed that current enforcement efforts tended to frustrate illegal activity.
He added that it was not enough to deter individuals seeking the financial reward of a large haul.
Jennifer Howie, of the Food Standards Agency Scotland, said she would support the introduction of digital records which would help ensure traceability records were genuine.
The shellfish beds in the Solway Firth have been closed since September 2011 to allow stocks to recover.
There have been regular concerns expressed that cockles were still being gathered in the area.
A summit on the issue took place in Dumfries in August, organised by Fisheries Secretary Richard Lochhead.
He said after that meeting that additional enforcement powers would be considered.