Sanquhar police chase man finished up in River Nith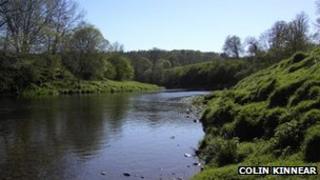 A court has heard how a motorist chased by police ended up having to be fished out of a river.
The pursuit began near Sanquhar but police were forced to pull back as David Landsborough, 23, overtook vehicles at blind bends.
He eventually hit a road sign on the A76 near Drumlanrig and a fisherman saw him fall into the River Nith.
He admitted driving dangerously and while unfit through drink or drugs and was jailed for two years.
Landsborough was also banned from driving for three years.
Dumfries Sheriff Court heard how, in September this year, a marked police car with its light flashing and siren sounding started the pursuit of a white Citroen Berlingo.
They later came across the van but there was no sign of the driver.
A nearby fisherman said he had seen someone falling into the river and Landsborough was found trapped in the water.
Fire and rescue service personnel had to be called to free him.
Landsborough admitted driving dangerously, repeatedly crossing into the path of oncoming vehicles and failing to stop when requested to do so by police.
He also pled guilty to driving while disqualified and without insurance and while unfit through drink or drugs.
In addition, he admitted breaches of community service orders.