Dumfries and Galloway budget plans would see £7.2m cut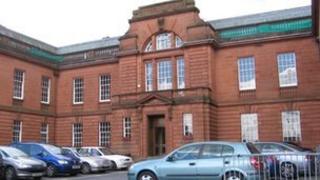 Proposals have been tabled to cut council spending by £7.2m in Dumfries and Galloway next year.
The authority said the savings were required to absorb reductions in government funding coupled with the rising costs it is facing.
The draft budget plan put forward by the Conservative-SNP administration lists 27 new savings options.
It includes a fresh round of staff cuts through early retirement, voluntary redundancy or deleting vacant posts.
Council leader, Conservative Ivor Hyslop, said the plans showed the administration's commitment to "investing in the local economy even in difficult times".
He said it put money into schools, supporting small businesses and avoided compulsory redundancies while keeping council tax the lowest in mainland Scotland.
"We believe our budget is a good answer to a challenging question - how we continue to invest in our region when the public finances are under more pressure than ever," he said.
Depute leader, Brian Collins of the SNP, said it showed a commitment to the Living Wage and increasing it to £7.50 an hour from 1 April.
"We are also slashing the charges for instrumental instruction on top of protecting last year's increases to the clothing grant for low-income families," he said.
"I am delighted that we are continuing to help our region's lowest paid and most vulnerable people through these proposals."
The proposals were presented at the end of a meeting of the full council.
The opposition Labour group voiced anger that the budget plans were not opened up for debate and has accused the administration of attempting to "bury bad news" before Christmas.
Labour said it would publish a rival spending plan early in the new year.
Councillor Colin Smyth said the administration's proposals would see the number of teachers "slashed" and adult education "decimated".
He said they amounted to £30m in cuts over the next three years and the failure to discuss them was "shameful".
"This proposed budget doesn't just butcher the services local people rely on it but it signals the announcement of the death of local democracy," he claimed.
The council's new budget is scheduled to be finalised in February.