Dumfries Crichton Campus undergraduate numbers double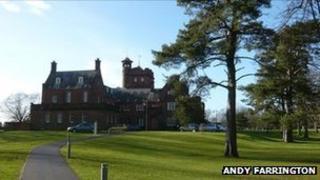 The number of undergraduate students at the University of Glasgow's Crichton Campus in Dumfries has more than doubled over the past three years.
It now has 230 full-time students, compared with just over 100 in 2009.
In 2007 the university stopped undergraduate admissions but the move was reversed thanks to £1.5m from the Scottish Funding Council.
Prof David Clark said the expansion in recent years had gone hand in hand with additional funding.
"This year alone we have received funding for an extra 40 places," he said.
"We are anticipating continued growth of 15 places per year for the next three years.
"In addition to that, we have just embarked upon a new scheme which is very significant for us in its novelty which is a scheme to allow students coming from the HNC qualification directly into the second year of study here at the university."
Funded places have also been obtained for that project.
"Our overall plan is to grow our numbers from the current 230 that we have to about 300 over the next two to three years," said Prof Clark.