Hawick, Kelvingrove and Paisley park funding secured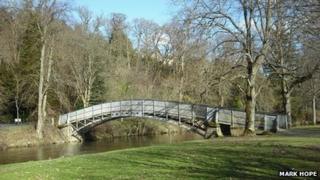 The Heritage Lottery Fund has confirmed more than £3.7m in grants to support plans to transform three parks across Scotland.
The biggest funding packing is more than £2.6m towards improvements at Hawick's Wilton Lodge Park.
There is also in excess of £500,000 for both Kelvingrove bandstand in Glasgow and Paisley's Grand Fountain.
Dean Castle Country Park in Kilmarnock has also been cleared to take forward its £3m improvement bid.
Colin McLean, head of the HLF in Scotland, said: "This has been a difficult time for parks with unrelenting pressure to manage budgets, so we are delighted to be able to bring some festive cheer.
"Our parks, and the historic features within them, are a wonderful legacy from our ancestors which are enjoyed by all ages and are often a community's only green space in which to relax away from the pressures of daily life.
"That's why HLF is committed to protecting these precious places."
The funding comes through its Parks for People programme.
"We continue to champion parks, not just because they are an important part of our heritage, but because they make a huge difference to the quality of life for millions of Scots," said Mr McLean.
Scottish Borders councillor David Paterson said the Wilton Lodge Park had played a "significant role" in the community over the years.
"It is a beautiful park just now but with investment from the HLF and Scottish Borders Council we have the opportunity to restore some of the historic elements to secure their future, as well as introduce new attractions," he said.
"This is a fantastic project for Hawick."
Keith Johnston, from Friends of Wilton Lodge Park, added: "We are delighted that we have been an integral part of this successful project and look forward to work starting in 2013 to improve the park."