Scottish Borders Council in Facebook winter service review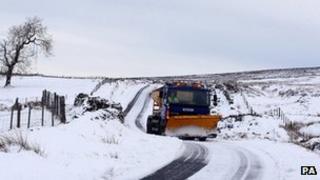 Scottish Borders Council has staged an hour-long session via social media to allow the public to raise questions about its winter service provision.
It took place between 12:30 and 13:30 GMT on the authority's Facebook page.
Council officials were on hand to discuss services such as gritting of the region's roads and footpaths.
Infrastructure director Rob Dickson said the authority was aware residents had "many questions" about how routes in the area were treated.
A summary of the discussion can be seen on the council's official Facebook site.
Earlier this year, the council said its road treatment scheme guaranteed community safety despite cutting more than 100 miles from its "primary salting network".
It agreed to go ahead with an overhaul of its winter gritting plans.
It saw all A roads and most B roads remain on the priority list.
Councillor Gordon Edgar said at the time that a degree of flexibility had been built into the scheme to allow changes to be made if there were routes where problems arose.
Concerns were raised by some councillors about roads in their areas where problems had been experienced in the past.
Mr Edgar said the council could adjust the scheme if it needed to do so.