Mull of Galloway buyout considered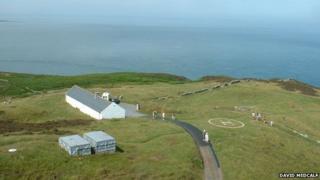 The most southerly piece of land in Scotland could be the subject of the country's latest community buyout.
The 30-acre tip of the Mull of Galloway is home to an important seabird colony, valuable heath and plant-life and an iconic lighthouse complex.
It is owned by the Northern Lighthouse Board but it is seeking to sell it and a community company wants to try to buy it.
The Mull of Galloway Trust is leading the proposed community land purchase.
It wants to secure the Mull for local people to oversee its development and conservation and avoid any possibility of commercial exploitation of "Scotland's Land's End".
MGT secretary Steve Hardy said it wanted to preserve the area as "a place of beauty" and "a place of tranquillity".
"We want to ensure we don't get some outside body in who decide to make it into a fun park," he said.
"There are going to be no fantastic changes - we are not going to build a Ferris wheel or a helter-skelter.
"It will remain as it is."
There already is community involvement in the shape of a volunteer-run lighthouse museum.
It is marketed as The Mull of Galloway Experience, along with a visitor centre run by RSPB Scotland.
Andrew Bielinksi - the reserve manager - said they would be keen to see a local trust take over as landlord.
"The Mull of Galloway is the largest sea bird colony in Dumfries and Galloway," he said.
"But also in migration time, particularly in the autumn, we get thousands of birds funnelling through here on their way south - that can be quite spectacular as well.
"It is quite a rare habitat, this coastal heath, so some of the plants here are very special as well."
The buyout is also supported by Wigtownshire Chamber of Commerce - aware of the importance of the Mull in attracting tourists to an isolated and economically vulnerable peninsula.
Chamber spokesman Jim Doran, a nearby hotelier, said: "Lots of businesses in this area rely on tourism for their income.
"Here we have got a class A, four-star, hot-spot tourism area in the Mull of Galloway.
"We have all seen the price of fuel - it means people have to make a commitment to come this far to the south west of Scotland and if you haven't got the attractions here to bring them in, they are going to find somewhere else closer to home."
The lighthouse tower will continue to function as a warning beacon for sailors and is not part of the sale - but everything else is.
The land, three cottages, the museum and the RSPB visitor centre and a redundant foghorn.
The asking price is expected to be about £340,000, which the trust hopes to get from the Scottish Land Fund.
But local people will have to be seen to be behind the project.
An information meeting is being held in Drummore village this week and nearly 600 local inhabitants will be asked to vote on the issue in the new year.
Mr Hardy also hopes it might be a step towards his "personal dream" of bringing the warning siren back to life.
"Edinburgh has its one o'clock gun so perhaps Scotland's Land's End could have its one o'clock foghorn," he said.