Dumfries Dock Park overhaul to get under way in April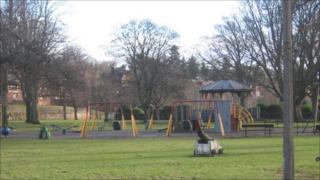 Work on a £2m project to revitalise a "flagship" park in the south of Scotland will begin in April.
An official opening of the Dock Park project in Dumfries has been scheduled for 2014.
Nithsdale area councillors have been told that a combination of Heritage Lottery Fund support and local authority funding is now in place.
Tendering for contractors will take place in January, and the work is earmarked for completion by late 2013.
The upgrade will see the restoration of key features such as the iconic bandstand as well as a replacement children's play area, improvements to the bowling pavilion and the creation of new entrances to the park.
While welcoming the development, north west Dumfries councillor Ronnie Nicholson said he believed there could be additional facilities provided for youngsters.
"There are play parks there for the youngsters, there are tea rooms and other facilities for youngsters having music events," he said.
"But I think it should also have some more physical activities as well.
"There were trampolines there before, there were tennis courts there before."
He said the feedback he had received suggested that some kind of footballing facilities in the park would be welcome along with the other planned improvements.