Cairnryan animal cruelty case donkeys seek homes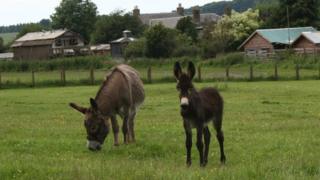 The Scottish SPCA is trying to find homes for the horses and donkeys at the centre of its biggest-ever case of illegal animal transporting.
Laurence McAllister, of County Antrim, was fined £13,500 for committing the offence at Cairnryan in 2011.
All the animals involved were signed over to the charity's care and have been recovering for more than a year.
It is now appealing for suitable owners to come forward for the eight horses and three donkeys.
One foal involved had to be put down.
Three horses are being cared for at the charity's rescue and rehoming centre in Edinburgh while three are being looked after at its centre in Drumoak, Aberdeenshire.
A further two horses and three donkeys have been recovering at private stables.
Ch Supt Mike Flynn said: "These horses and donkeys have spent over a year being rehabilitated by our dedicated staff.
"Some required veterinary treatment for injuries and illnesses, however, these animals did not just need our help to recover physically.
"Many were also affected mentally and it has taken a great deal of time to bring them round to the point where they are ready to be rehomed."
'Poor condition'
He said one adult donkey had been in an "extremely poor condition" and had been "very fearful of humans".
"We also have her foal, who was born in our care, and a second adult donkey," he added.
"All three are very closely bonded so we are keeping them together.
"We therefore need to find someone who can provide for the needs of all three and has adequate accommodation to house them comfortably."
McAllister was sentenced for the offence at Stranraer Sheriff Court in October.
As well as being fined he was banned from transporting horses for three years.