Dumfries Youth Beatz festival charging attempt rejected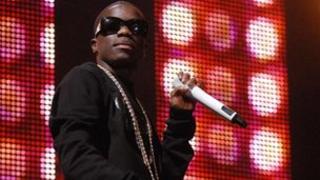 A renewed bid to introduce ticket charges for a free youth music festival in Dumfries has been rejected.
Since its launch, Youth Beatz has been promoted as the largest free event of its kind in Scotland.
It has maintained a free admission policy since it began four years ago.
Proposals to charge £5 for tickets bought in person and £10 for online purchases were rejected by councillors who feared they might deter young people from attending the event.
The festival, staged at the town's Dock Park, attracts audiences of up to 12,000, with past headline acts including N-Dubz, Alexandra Burke and Tynchy Stryder.
Dumfries and Galloway Council's Nithsdale area committee rejected a second bid to introduce charges for the event - which costs a little more than £100,000 to stage - when it met this week.
It had previously turned down a similar attempt earlier this year.
The committee voted against the recommendation of officials and backed a motion by Labour councillor Colin Smyth to keep the festival charge-free.
"Of all the things that the area committee spends its money on one of the best, in my view, is the Youth Beatz event," said Mr Smyth.
"It has now got the reputation as the biggest free festival in Scotland.
"The feedback from youngsters going along to the event is absolutely tremendous and this is an event we have to secure."
He said his fear was that if charges were introduced then people would simply stay away.
"We have also been told that if a charge is imposed then the police would also charge for policing at the event as well," he said.
"I don't think the figures add up - I don't think a charge is something we need to do at this stage."
However, he added that he felt the financial burden should not fall on the area committee.
"I would like to see this event funded by the council centrally because it is of benefit to the whole region, not just the Nithsdale area," he added.
'Alcohol-free event'
SNP councillor Andrew Wood was firmly of the view that an entrance fee should be imposed.
"It is quite obvious that under the financial constraints of all authorities, we can no longer give such support to these events," he said.
"We very much do need extra sponsors to come in and ticketing to take place at the door."
He said charges might also help to address some problems experienced at this year's event.
"This is an event that is supposed to be alcohol-free and very educational for young people and we must try to ensure we retain that element of the event," he said.
"I fear that if we make this a free event we are going to move away from that."