Scottish Borders domestic abuse support plan launched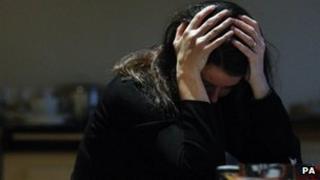 New services have been launched in the Scottish Borders to help support adults and children suffering domestic abuse.
They were unveiled by Community Safety Minister Roseanna Cunningham.
The Safer Communities Team at Scottish Borders Council (SBC) announced earlier this year that it had secured £1.23m of funding for the scheme.
It has been used to develop the "pathway project", consisting of three new services specifically designed to meet the needs of abuse victims.
The new services are the Domestic Abuse Advocacy Support (DAAS) service, the Children1st Domestic Abuse service and the Children Experiencing Domestic Abuse Recovery (CEDAR) group work programme.
Ms Cunningham said: "This important and innovative project will provide vital support for both adults and children experiencing domestic abuse.
"We have always been clear that there is no place for domestic abuse in Scotland, and tackling it is a top priority for the Scottish government.
"We will also continue to work closely with police, councils, health boards and the voluntary sector to ensure that perpetrators are held to account, and that victims and their children have the services they require."
Councillor Donald Moffat said the services had been made possible by a range of partner agencies including Scottish Borders Council, NHS Borders, Lothian and Borders Police and local housing providers.
"By working together, and having services that can be accessed easily by victims, the pathway project will make a real difference for individuals and families affected by domestic abuse in the Scottish Borders," he said.