Livestock carrier and car in serious crash near Hoddom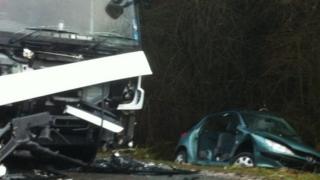 Police have appealed for witnesses after a serious crash involving a livestock carrier and a car on a minor road in Dumfries and Galloway.
The incident took place at about 07:20 on the B723 at Longmoor near Hoddom.
It involved a green Peugeot 206 and a white Mercedes livestock carrier.
The driver of the car was taken to the Southern General Hospital in Glasgow for treatment. Police asked drivers to avoid the area if possible and expect delays if travelling near the route.