Borders forest therapy benefits assessed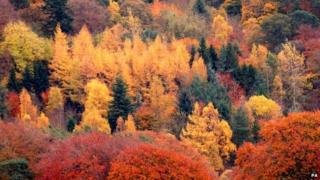 Getting back to nature is good for you.
That appears to be the evidence from an initiative aimed at helping people with mental health issues such as depression or anxiety.
Branching Out, a Forestry Commission Scotland project, has now been operated successfully in the Borders, with the Borders Forest Trust taking the lead.
It offers a variety of activities ranging from tai chi to bushcraft and from conservation to art over a 12-week period.
In the Borders the focus has been on Wooplaw Community Woodland near Galashiels.
And the first group has just "graduated" with certificates from conservation body the John Muir Trust to show participation in the course.
Alastair Taylor, a freelance environmental education consultant, said the benefits of the initiative were clear in terms of both physical and mental health.
"There's fresh air, exercise and just interacting with nature," he said.
"And we're rediscovering that these things are probably more beneficial and, certainly, cheaper than medication."
The next group to undertake Branching Out in the Borders will start its 12-week sessions in February.
Ross, one of those who just completed the three-month scheme, has enjoyed every minute of it, looking after the woodland and learning about nature.
Bruce said it was finding out about conservation and how he and others could "help" nature which he found most beneficial.
And Steven said, despite being out in all weathers over the three months, Branching Out had given him a real boost.
"It's great to get outdoors and get involved in a group," he said.
"And it's really boosted my confidence and lifted my mood, not just at the time but afterwards too."