Selkirk Forest Pitch returns to nature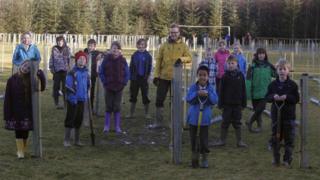 Down in a forest near Selkirk things have been stirring.
Around 100 local primary school pupils have joined forces with Borders Forest Trust volunteers to help plant 800 trees to create a giant living sculpture.
The Forest Pitch arts project is part of the 2012 Cultural Olympiad.
The playing surface was created on a cleared area of woodland and matches were played in August.
Now the pitch is being marked for posterity in a unique way as native tree species such as oak, Scots pine, birch and hawthorn are planted to mark out the shape of the pitch.
Artist Craig Coulthard, the man behind the project, hopes that, even in a few decades, those who visit the site will be aware that it is special - and want to find out its history for themselves.
"Grasses, wild flowers and naturally seeding trees will grow up here and will attract wildlife, such as insects and woodland birds," he said.
"I hope it will encourage people to think about nature, why we treat it in the way we do, and the relationship between the native and non-native."
Anna Craigen of the Borders Forest Trust explained that different species are being used to delineate different areas of the pitch.
"The centre circle's oak trees and the half-way line is Scots pine, for example," she said.
And, she says, even those who visit the area many years from now will know there's something different about it.
"It will be very clear to those who walk through it that the lines have meaning," she added.
Anna hopes the primary school pupils involved in the planting sessions will take ownership of the project and visit the site as they, and the trees they planted, mature and grow.
'Fantastic project'
Ashley, one of the youngsters involved in the work, was enthusiastic about the project.
"I think it's a great idea - Craig Coulthard is a genius," she said.
And she reflected on the fact that some species being planted in 2012 won't reach maturity for a century or more.
Rosalind was equally keen. She said: "It's a fantastic project.
"It shows how you can use something then reform it into what it was before - but in a special way."
And Dylan, asked what he liked about the exercise summed it up: "It's fun, planting trees, and finding lots of things out about the forest."