From Territorial Army to Army Reserves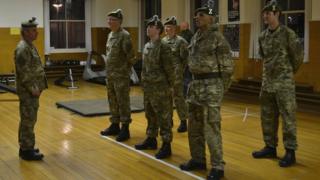 Every Tuesday night, just opposite the Tesco, the Gala Territorial Army detachment meets for two hours.
The TA is being rebranded and remodelled. Soon it will be known as the Army Reserves and because of the cutbacks it will have to play a major part in Britain's armed forces.
I went along to their weekly meet to see how part-time soldiers can be trained to play a front-line role.
To be completely honest, it was not what I was expecting.
I was expecting an old gym hall, about 50-odd middle-aged, out-of-shape men marching about with cardboard cut-out guns in ill-fitting, hand-me-down uniforms.
I arrived just as the unit had completed their press-ups and sit-ups and an "easy mile-and-a-half run".
What I saw was half-a-dozen well-drilled, very fit soldiers in the latest kit being lectured on front-line tactics.
"This isn't a drinking club any more," said Sgt Jim Lawrie from Kelso.
Sgt Lawrie was a regular soldier in the Kings Own Scottish Borderers, and has been in the TA for 16 years.
Tonight he's taking the lecture on IEDs - improvised explosive devices.
"There have been a lot of changes over the years," he explained.
"We have fewer guys now but they are much better trained.
"These guys know they could be mobilised and sent out on operations, but I think that has maybe put some others off."
Discipline here seemed just as strict as regular military units, with total respect for the chain of command and for the rank slides worn by each soldier.
In one of the store rooms in the vast barracks there are racks of kit.
One soldier seemed reluctant to empty his sizeable rucksack.
When he does, it's clear his kit has not been checked recently. L/Cpl Keith Robinson, from Duns, is all over him in a flash.
In his day job L/Cpl Robinson organises raves and music events.
Last year, as a mobilised TA soldier, he was stationed in a remote patrol base in Helmand.
It was clear he felt strongly about the soldier's inattention to detail: "If you go on operations you can't have your kit in this state. That's not acceptable - sort it!"
Out of 12 soldiers from Galashiels Detachment, A Company, 52 Lowland Volunteers, 6th Battalion, Royal Regiment of Scotland, to give it its full name, four of them are serving in Helmand right now.
There's a note of pride from the officer in charge, Capt Paddy Carrick from Kelso.
"You only have to look around this building to see the history and pride in the reserves over the past 100 years and more," he said.
He was showing me round the Gala detachment's extensive facilities. As well as a gym hall there are kitchen facilities, a bar, senior ranks mess, stores, lecture rooms and an armoury.
But even with all these facilities, is it really possible to train part-time soldiers for front-line duties?
"We are talking about people who do a full week's work and still come along to training every week and a lot of weekends," said Capt Carrick.
"They are highly motivated, they know they could be deployed, they know how important the training is."