Creetown Christmas tree starts Downing Street journey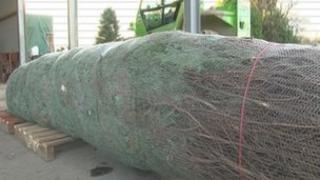 A Christmas tree specially selected for Prime Minister David Cameron has started its journey from Galloway to Downing Street.
The 20ft fir is being supplied by Garrocher farm at Creetown as part of their prize for being named UK Christmas Tree Grower of the Year.
The trees were praised for their "quality, density and foliage".
Owner Mike Craig said it was quite a logistical exercise to get the tree to London in prime condition.
"We've a number of these trees that we've kept for some time, they are in quite a difficult little corner of the farm that is not easy to get into," he said.
"It took about 20 of us to actually get it out of the area that it was in."
It was then double-netted and a number of lifting straps put in place.
Mr Craig described it as the "ultimate accolade" for the company and a great tribute to the hard work of his staff over the past 10 years.
He won the competition earlier this year at an event staged at Berkshire College of Agriculture's equestrian indoor arena.
Harry Brightwell, from The British Christmas Tree Growers Association, said the winning tree was picked to "get people who are outside and inside No 10 into the festive spirit".