Kelso man Stuart McCutcheon jailed for selling banned bullets to police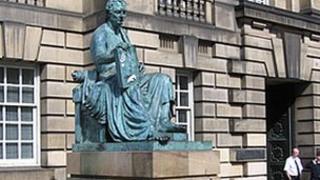 A man who was freed early from prison has been jailed for 45 months after selling banned ammunition to undercover police officers.
Stuart McCutcheon, 24, of Berrymoss Court, Kelso, met the officers in May.
A court heard how he handed over a carrier bag containing 99 bullets to the men he knew as "Mikey" and "Ross".
McCutcheon admitted breaching the Firearms Act and was told he would have been jailed for five years if he had been convicted following a trial.
The High Court in Edinburgh was told that he met the police officers after hearing they had designer clothing for sale.
He went to a house in Kelso to view the items and got into conversation with the pair.
Advocate depute Shanti Maguire said: "During the course of the discussions the accused asked the officers if they were interested in 'metal'.
"The officers took that to mean firearms.
"He went on to state that he would be able to source a firearm."
The prosecutor said the undercover officers subsequently received text messages and calls from McCutcheon.
On one occasion he told them he did not have a firearm but did have bullets.
Prohibited ammunition
They agreed a price of £30 for 100 bullets and arranged a meeting at McCutcheon's girlfriend's home in Peebles.
He handed over a bag containing 99 bullets, saying that one was missing.
The bullets were found to be prohibited ammunition as they were designed to expand on impact.
The court heard that McCutcheon had been released from prison in March this year on a supervised release order.
He was jailed for more than two years in May last year at Selkirk Sheriff Court for a number of offences, including a contravention of firearms legislation.
McCutcheon admitted further breaches of the Firearms Act, including possessing the prohibited ammunition and selling or transferring it to law enforcement officers.
Defence counsel Frank Gallagher said McCutcheon was "no stranger to the court system" and accepted responsibility for his actions.
Passing sentence, judge Lord Uist pointed out that McCutcheon's criminal record consisted of 17 separate court appearances.