Annandale North by-election win for Conservatives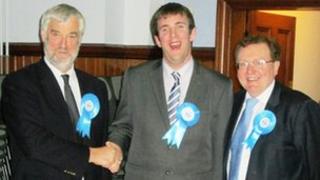 Conservative candidate Graeme Tait has won a by-election held following the death of a councillor in Dumfries and Galloway earlier this year.
Labour's Ted Brown died in September after taking ill and collapsing at a council meeting.
Six candidates contested the seat left vacant in the Annandale North Ward.
The count took place at Lockerbie Town Hall until the early hours of the morning with Mr Tait being elected at the fourth stage of the count.
Mr Tait said: "I am delighted with the result.
"This is where I was born and brought up and I feel privileged to have been elected to represent this area.
"There are lots of key issues that local residents have brought to me throughout the campaign and I promise to continue my hard work with my Conservative ward colleagues to get the best deal for our area."