Dumfries and Galloway school 'cluster' plan criticised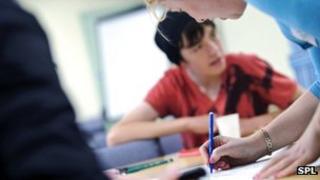 The handling of plans to maintain the viability of small rural schools in Dumfries and Galloway has been criticised by teacher representatives.
The "cluster" working scheme could see the introduction of non-teaching headships with responsibility for a group of schools.
It is part of a range of measures suggested for more remote sites.
The failure to consult staff before seeking council approval came under fire from teaching representatives.
Timothy Birrell, who sits on the education committee, said the proposals had been badly handled.
"I was disappointed that in the development of the policy to this point there had been no formal consultation with the professional associations of teachers," he said.
"That really is something that we regard as important.
"The way in which you consult and the way in which you get a great deal of important feeling that people have regarding any particular educational issue is by going through their consultative bodies."
Director of Education Colin Grant insisted the department did seek a wide variety of views during the cluster working review which led to the development of the proposal to change the role of head teachers as part of a wider efforts to sustain small schools.
However, he said he recognised the sensitivities involved and said the plans would be subject to further scrutiny.
"It's a very, very complex issue and we can fully understand that there are emotive issues," he said.
"We carried out a general consultation and spoke to lots of people out there about the general principles.
"Now what we need to do is go out and consult on the detail and that is what we intend to do."