Stranraer waterfront strategy put on hold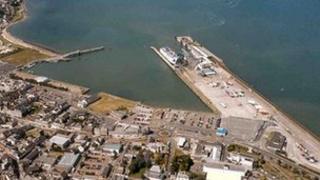 A revised investment strategy to regenerate Stranraer waterfront has been put on hold.
The opposition Labour group has invoked a clause to bring the issue back to next full meeting of Dumfries and Galloway Council.
Last week's planning committee agreed spending plans for the area after failing to secure EU funding.
Concerns that the wider regeneration of the town was not being considered will now see that move reconsidered.
The revised plans were based on an available budget of £2.4m.
The proposals - voted through by members of the Conservative-SNP administration - targeted almost a third of that funding at the refurbishment of the West Pier, environmental improvements and design work for future marina developments.
Other options, including the development of a slipway, will be considered in the new year.
While supportive of the initial investment priorities, the Labour group wanted consideration to be given to projects proposed by the community to regenerate the town.
That suggestion was rejected but it has prompted opposition councillors to make use of a 12-signature clause to bring the waterfront strategy back to the table during the next full council meeting.