Wojtek the bear film plan mooted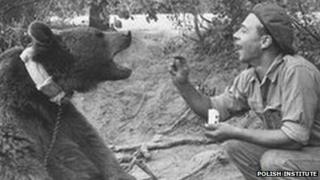 A beer-drinking bear who saw action in World War II could be in line to be the subject of a Hollywood film.
Wojtek - dubbed the "Soldier Bear" - was adopted by Polish troops and helped them carry ammunition at the Battle of Monte Cassino.
After the war he lived in Scotland at Hutton in Berwickshire, before ending his days in Edinburgh Zoo.
Belfast writer and director Brendan Foley has bought the rights to the bear's "remarkable story".
Wojtek - also known as Voytek - was rescued as a cub in the Middle East in 1943.
The Polish soldiers adopted him and as he grew he was trained to carry heavy mortar rounds.
When their forces were deployed to Europe the only way to take the bear with them was to "enlist" him.
So he was given a name, rank and number and took part in the Italian campaign.
At the end of the war the bear - who had also learned how to smoke and drink beer - was billeted at an army camp in the Scottish Borders.
When the Polish soldiers were demobilised he was taken to Edinburgh Zoo where he eventually died in 1963.
Mr Foley said plans to bring the story to the big screen were at an "early stage".
He plans to work with Ned Dowd, who was the producer on Mel Gibson's Apocalypto.
Mr Foley said: "After the script is written we will discuss production possibilities both in Europe and Hollywood in more detail.
"We already have early interest from both sides of the Atlantic, but it will all depend on the script, which we hope to have ready to bring to Cannes 2013.
"Personally, I'd love to shoot some of the film in Scotland, but that will depend on funding and where else we are filming."
Aileen Orr, the author of Wojtek the Bear who sold the rights to Mr Foley, discovered the story growing up in Berwickshire and by visiting Edinburgh Zoo.
She is part of a trust raising funds to create a statue of Wojtek with a Polish soldier that was his minder.
'Remarkable story'
They want the statue to be placed on a plinth made from stone quarried from the Polish soldiers' former camp in Berwickshire and displayed in the Scottish capital.
She said: "I knew after speaking to one of the Poles who was in the camp that I wanted this statue to be a moment in time reflecting what the bear did here in the Scottish Borders.
"He was free to run around; he was humanised and had no idea he was a bear; he thought he was a soldier, and so he could wander down the road with one of the men and just as villagers stopped to speak, he would stop and listen to the exchange.
"After a while, this was not deemed to be a remarkable thing as everyone got used to seeing him.
"But it is a remarkable story."