Hawick medieval monk music manuscript gig scheduled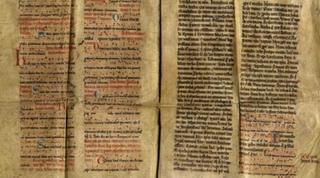 A 12th Century music manuscript for monks during Holy Week is to be used in a performance for what is thought to be the first time in 450 years.
The find was made by Archive Manager Rachel Hosker and staff at the Heart of Hawick cultural centre in the Borders.
It was contained in papers relating to the Rutherford family of Knowesouth, near Jedburgh.
The performance will take place in the town's Tower Mill, the first event in a two-year music and arts project.
The Fragments scheme is a partnership between Historic Scotland and the Heritage Hub supported with funding from Creative Scotland as part of the Year of Creative Scotland.
As well as the performance there will be an opportunity to see the missal fragment and hear the story of how it was saved and interpreted by experts.
David Taylor, portfolio manager for Creative Scotland, said: "The Year of Creative Scotland is a chance for us to celebrate and promote Scotland's cultural and creative strengths at home and on a world stage.
"We are pleased to support this project in partnership with Historic Scotland.
"Fragments will create a community wide celebration of the Hawick missal through music and art, attracting both local and international visitors to the area, in this the Year of Creative Scotland 2012.''
The performance will take place on 21 November.