Selkirk dog Sparky rescued after 16 days in Grey Mare's Tail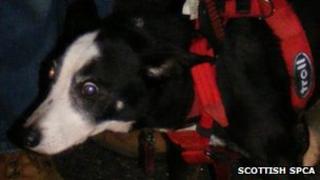 Mountain rescuers have saved a dog from a gorge - more than a fortnight after it was reported missing.
Steve McLachlan, from near Selkirk, lost all trace of Sparky after the dog raced off to chase goats at the Grey Mare's Tail near Moffat.
Repeated attempts to find him failed until reports - 16 days later - that he was stranded on a ledge in the area.
Moffat Mountain Rescue team members abseiled down the gorge to help carry the missing dog to safety.
Sparky went missing when Mr McLachlan and his family were out walking in the area in mid-October.
'Pulled away'
"Sparky decided to take off after some goats," explained the dog's owner.
"He pulled away from us and disappeared down the slope chasing the goats and that was the last we saw of him or heard of him."
The family searched for him for several hours and returned to the area the following day.
Mr McLachlan admitted that he thought at that point the dog had probably fallen into the burn.
"We pinned a note up with my contact details more in hope than expectation," he said.
A couple of people contacted him saying they had heard a dog in the area but it was only after some time that a credible sighting was made.
"Sixteen days later I had a call from someone who had seen a dog with a red collar matching Sparky's description on a ledge on the other side of the burn in an inaccessible place," he said.
That was when mountain rescuers were called in.
"There were about seven of them arrived in their Land Rovers," said Mr McLachlan.
"They had to cross the burn, work their way down to the point above Sparky and then they abseiled down almost into the gorge, into the spray more or less from the waterfall.
"I couldn't have asked them to be any more professional or skilful in their work.
"You can't say how grateful we were, really."
Mr McLachlan said Sparky was "quiet and subdued" after the incident and had lost a lot of weight but added that vets believed he would be fine despite his ordeal.
Scottish SPCA Insp Janet Proudlock said: "When Sparky was found he had already lost a third of his body weight so he wouldn't have survived for much longer.
"His owners were very sensible to distribute posters in the area with their contact details as this is ultimately how they were able to find him.
"There is no doubt that Sparky is an incredibly lucky dog and I was delighted to be present at the happy reunion between him and his owner."