St Joseph's College bucks Dumfries secondary roll trend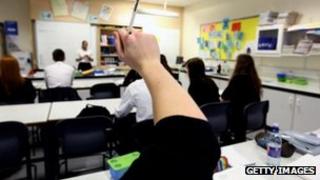 A Roman Catholic secondary in Dumfries is the only school in the town to have seen its roll rise in the past decade.
The total number of pupils at St Joseph's College has increased by more than 23% since 2002.
Student levels at Dumfries High School, Dumfries Academy and Maxwelltown High School have all fallen over the same time period.
A council spokesman said it expected significant fluctuation in pupil numbers over a 10-year spell.
The total number of pupils at the town's secondary schools has fallen by 18.7% over a decade.
However, that decrease has not been spread evenly across the sites.
Maxwelltown High School pupil levels have dropped by 19.5% but figures have slipped by 30.9% at Dumfries High School and 32.2% at Dumfries Academy.
'Parental choice'
A spokesperson for Dumfries and Galloway Council said: "These figures should be viewed within the context that they cover a considerable period of time and there are trends but also fluctuations.
"Given the ease with which pupils can travel the relatively short distances between our Dumfries secondary schools, options are very open.
"The number of non-catchment placements presents a challenge for schools in terms of curricular planning and continuity for youngsters but the figures show that parental choice plays a big part."
Dumfries and Galloway Council is currently considering moves to create a new "super school" for all the town's S4 to S6 pupils.
At current levels it would have to accommodate about 1,200 pupils - significantly more than at any site at present.
However, the authority said it would work to ensure students did not suffer in the move to such a large school if the scheme did go ahead.
"We currently have pupils coming from some very, very small schools at age 12 to go to schools of over 750 pupils, and larger in other parts of Dumfries and Galloway," the spokesperson added.
"We aim to make this less of an issue by continuing to encourage teachers to work across the transition stage P6 to S2."