Borders' Margaret Kerr Unit closes in on target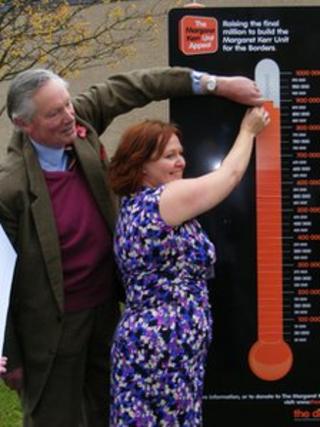 An appeal to raise the final £1m needed to build the first dedicated palliative care unit in the Borders has almost reached its target.
Fundraising for the Margaret Kerr Unit, which started in September last year, has now gathered more than £900,000.
The latest donation of £26,500 was handed over by Sir Malcolm Ross, Prior of the Order of St John in Scotland.
The total cost of the new facility, named after the nurse whose bequest kickstarted the scheme, is £4.1m.
Clare Oliver, fundraising manager with NHS Borders, said there was no reason why the £1m target would not be reached by the end of the year.
"We tend to get a lot of donations in the period around Christmas and we know there are fundraising efforts going on all the time," she said.
Building work on the unit is almost complete.
It is hoped the premises will be handed over to NHS Borders towards the end of November, with furniture then being installed, allowing the first patients to be admitted early in 2013.