Stranraer waterfront works rethink after funds failure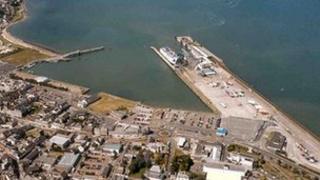 A revised investment strategy has been agreed to revitalise Stranraer harbour after a European funding bid failed.
A regeneration plan was drawn up after the last ferry left the town last year.
The cost of implementing it has been estimated at more than £7m but revised plans are based on a budget of £2.4m.
Just under one third of the funding will be used to refurbish the West Pier, carry out environmental improvements and finance design work for future marina developments.
A report on further options to install a slipway and other facilities will be considered in the new year.
Wigtown West councillor, Graham Forster, was critical that local calls for some of the money to be used to regenerate the town centre had been ignored.
"It's a way forward, but it's not the way forward that the people of Stranraer wanted," he said.
He said that the "wishes and aspirations" of local people had been best expressed in a document drawn up after public meetings and consultations in the town.
However, he felt those views had been ignored by the council.
"Basically what they are saying is they know better than the people who live on the ground," he said.
"Stranraer is more than a marina and to be quite honest unless everybody in Scotland is getting a boat for Christmas I wonder where all these ships are coming from and where the regeneration is going to be funded."
SNP councillor Jim McClung, who tabled the agreed investment plan for Stranraer waterfront, rejected any suggestion that the administration had ridden roughshod over local opinion.
He insisted the wider regeneration of the town would be addressed by a Scottish government-appointed Stranraer task force.
"I don't see how anybody could say we are going against the wishes of the people of Stranraer," he said.
"I think it is quite obvious that the West Pier needs to be reopened and that is going to be done."
The opposition Labour group welcomed the initial investment in the latest phase of the Stranraer waterfront regeneration.
Community views
However, spokesman Colin Smyth said that beyond that, the administration had opted to take a very blinkered approach which appeared out of step with the wishes of the local community.
"We suggested that before other projects are agreed that the council should listen to what the local community have to say and also consider any other projects that have come from the local people," he said.
"These would be costed alongside the slipway and other infrastructure projects and considered together in January.
"This would still allow the council to spend the remaining £1.7m on the slipway and other infrastructure if they choose to do so in January but at the very least the other projects from the local community would be on the table."