Colombian arrested on Gretna wedding day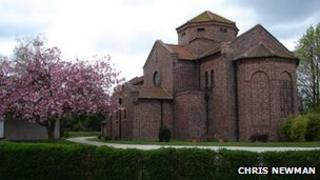 A 32-year-old South American man has been arrested as he attempted to get married at Anvil Hall in Gretna.
UK Border Agency officers received intelligence on a wedding scheduled to take place on Saturday.
The Colombian, who had overstayed his visa, was due to marry a 25-year-old Slovakian woman.
He was arrested before the wedding took place and is being held in detention while steps are taken to remove him back to Colombia.
Anna Beattie, from the UKBA in Scotland, said: "Anyone in the UK illegally and seeking to evade our immigration laws can expect to be found by us and removed from the UK.
"The UKBA is working with colleagues at registration offices throughout Scotland and receives intelligence from a wide variety of sources.
"We will not hesitate to act against those who mistakenly believe that they can abuse the immigration system."