Drugs gang ringleader Keith Blenkinsop cash confiscated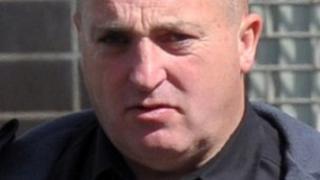 The ringleader of a drugs gang claimed to have moved cocaine worth £40m from Spain to the UK has been ordered to hand over £21,000 in crime profits.
Keith Blenkinsop, 44, formerly of Winterhope Road, Annan, was jailed for 12 years last year.
A judge told him at the time he was "one of the principals in a major cocaine distribution operation".
Following his conviction the Crown brought proceedings to seize any proceeds of crime.
Blenkinsop was one of five men convicted last year of being concerned in the supply of cocaine between 2007 and 2009.
The drug was concealed inside suitcases and holdalls flown by couriers into Prestwick, Glasgow and Newcastle airports.
He was also found guilty of trafficking in cannabis and amphetamine over the same period.
After the court case, proceedings were started to confiscate any proceeds of crime from Blenkinsop.
His counsel Tony Lenehan told Lord Brodie at the High Court in Edinburgh that an agreement had been reached to settle the action.
He said it was agreed that the benefit from Blenkinsop's "general criminal conduct" should be recorded at £200,000 and a confiscation order should be made for £21,000.
The main asset identified was his share in a property.
Blenkinsop was given six months to pay the money.