Borders ambulance station bid rejected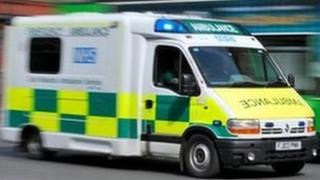 Councillors have rejected plans to site a new ambulance station next to the Borders General Hospital.
The Scottish Ambulance Service (SAS) wants to move its current depot in Galashiels to the site near Melrose.
It said the new facility would provide a fit-for-purpose working environment for its staff.
However, planning officers said that the scheme should be rejected due to landscape concerns and councillors agreed.
The SAS proposals envisaged a building to the north of the hospital between the Melrose bypass and the roadway leading into the hospital itself.
It is that location which upset planning officials and the council's landscape architect.
He was concerned that the removal of a number of trees to accommodate the ambulance station would have an adverse visual impact on the area, including views towards the Eildon Hills, as the ambulance station and the existing hospital would be more clearly visible.
He has suggested an alternative site in a field further from the main road.
Scottish Natural Heritage had lodged no objections to the scheme.
Melrose Community Council was also generally in favour of the plans, provided the junction between the hospital and the Melrose bypass was carefully monitored.
However, planning officers recommended refusal, saying the benefits of the development were outweighed by the "significant adverse landscape impacts".
Councillors backed that view and rejected the scheme.
It now means plans to turn the current ambulance depot into a £1.77m medical practice for Galashiels will have to be put on hold.