River Nith crayfish reports probed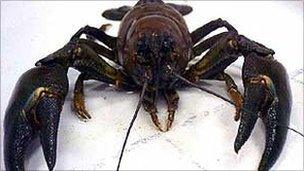 Investigation work is planned following reports of a potentially devastating invasive species being discovered for the first time in the River Nith.
Scottish Natural Heritage is to carry out surveys to see if North American signal crayfish are established in the south of Scotland river.
The crayfish were first found in Scottish waters in 1995.
Escapes from fish farms or illegal releases are thought to be the reason for their spread through the UK.
The waters of Loch Ken in Dumfries and Galloway are already infested with the species.
Reports have now been received of a discovery on the River Nith in the region.
They can have a hugely damaging impact on angling waters and are difficult to eradicate once established.
Dr Colin Bean, a freshwater adviser with SNH, said the latest incident would be examined closely.
"The prospects of removing signal crayfish from any water body - particularly one the size of the Nith - is likely to be difficult if not impossible," he said.
"So it is important for us to know what is actually there before any moves are made to try and develop any containment."
Anglers finding the fish have been advised to let either the Scottish Environment Protection Agency (Sepa) or SNH know.
The crayfish should not be moved as it is illegal to do so.
Related Internet Links
The BBC is not responsible for the content of external sites.