Game hunter Richard Cuninghame archive bags £45,000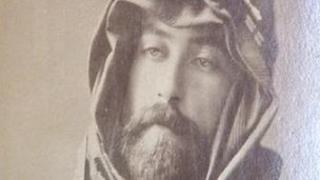 An archive and collection of relics amassed 100 years ago by African explorer Richard Cuninghame have sold for nearly £45,000 at auction.
A journal of his first expedition in 1901 fetched nearly £14,000.
Cuninghame, who died in 1925, led safaris for European royalty and former American President Theodore Roosevelt.
His African artefacts were among the contents of his former home, Hensol House in Kirkcudbrightshire, sold at Bonhams in Edinburgh.
Miranda Grant, managing director of Bonhams described Hensol as a "treasure trove" with a "fantastic history".
The Roosevelt trip established Cuninghame's reputation and he became much in demand as a guide to the rich and famous.
He was to have accompanied George Prince of Wales on safari in 1910 when the trip was cancelled following the death of Edward VII.
Although largely remembered as a hunter-tracker, Cuninghame was also a keen naturalist and contributed to the work of the Natural History Museum in London.
The main archive consisted of letters, journals and photographs from his many trips across the world.